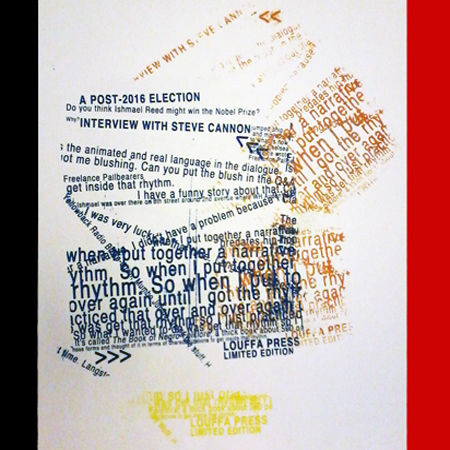 A Post-2016 Election Interview with Steve Cannon (2017)
These broadsides were printed in November 2017 by silkscreen in two sizes in a limited edition run of 10 copies of large prints (size 18"x 24") and 20 copies of the (9" x 12") smaller prints. The text was taken from an excerpt of an interview from January of 2017 with Steve Cannon by Louffa Press. In cooperation with Louffa Press, a significant portion of profits from each printing goes to badly needed disaster relief in Puerto Rico. Donations taken from profits for prints sold go to the UNIDOS Disaster Relief and Recovery Program via the Hispanic Federation, a BBB-approved New York City charity. For more information or to donate directly, visit the Hispanic Federation website here: https://hispanicfederation.org/unidos/
Steve Cannon is a writer and playwright, founder of Gathering of the Tribes Gallery on the Lower East Side in New York City. He is a Professor Emeritus at CUNY's Medgar Evers College, and the author of the cult classic novel, Groove, Bang and Jive Around. Darius James in the New York Press called the novel "an underground classic of such legendary stature that New York's black cognoscenti have transformed the work into an urban myth."
Smaller prints (9"x12") are available:
$22.98 includes shipping and handling in the USA.